The easiest way to optimize your PA
To give your best performance, you've gotta sound great. dbx goRack is the EASIEST way to optimize your PA and ensure amazing sound, every time, everywhere you go. And you know you'll sound great because goRack features the same software as our professional DriveRack PA2.
Professional Audio Wherever the Performance Takes You
Historically, the convenience of portability in a PA System has meant a compromise in sound quality and fidelity. To answer that call, dbx is proud to introduce the all-new goRack™ Portable Performance Processor. The goRack is an easy-to-use portable speaker processor. Based on our industry-leading DriveRack® Series, the goRack sits next to a set of powered speakers and provides powerful signal processing including Anti-Feedback (based on our AFS™ Advanced Feedback Suppression algorithm), Compression, Sub-Harmonic Synth and EQ. Each processing function is easily enabled or disabled via the dedicated function buttons, and settings are adjusted via goRack's large data wheel.

goRack's rear panel features combination 1/4"/XLR inputs that can be connected to either mixer outputs or microphones. When using a mic, the goRack's Mic/Line switch selects the proper input sensitivity and gain range while dual gain controls on the top provide independent level adjustment. goRack's 1/8" Aux input allows for direct connection of mobile music players while XLR outputs interface with powered speakers.
The goRack represents the best of dbx's DriveRack processing in its purest, most simplified form all housed in a sleek, compact form factor that fits in your hand, or back pocket. The goRack is perfect for applications from a mixer, or with its dual XLR inputs and Aux input, it can be used as a standalone performance processor/mixer for the solo artist.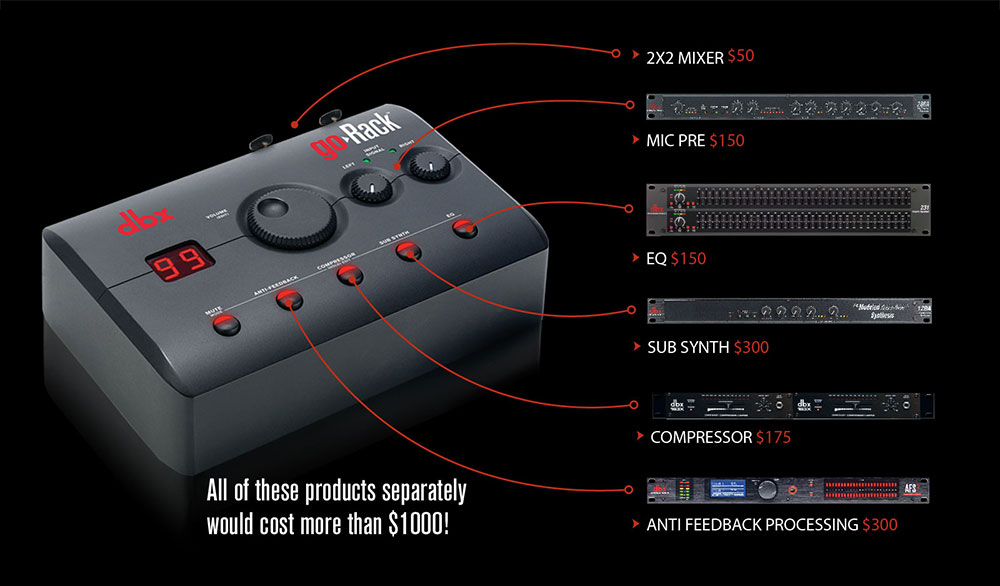 Anti-Feedback Processing
Make annoying and potentially painful audio feedback a thing of the past with the goRack's simple-to-use, Anti-Feedback processing. Based on dbx's industry-leading AFS (Advanced Feedback Suppression) algorithm, the goRack makes eliminating system feedback a snap. Simply press the goRack's Anti-Feedback function button and use the Data Wheel to adjust the settings. The goRack listens for, anticipates and removes feedback automatically without altering your sound.
Compressor
Control dynamics and fine-tune your system with the straightforward Compressor feature based on the legendary dbx 163 Compressor. Minimize peaks and level out variances in your audio source material with goRack's intuitive Compressor feature.
Sub-Synth

goRack's Sub Synth feature is the perfect tool for adding extra bass to your system. For decades, dbx's patented Subharmonic Synthesis has been the secret weapon used by mobile DJ's and film and sound professionals to produce low frequency impact unavailable from any other device—unique because the dbx process actually produces a new, Waveform Modeled™ bass note, exactly an octave below the bass in the original audio.
EQ

Add richness and clarity to your audio with the goRack's EQ feature. Experiment with one of goRack's custom EQ settings to instantly improve bass, midrange and treble response. The goRack's EQ can also be used to adjust a sound system to account for the acoustical response of a room or an outdoor venue.
The dbx goRack is ideally suited for live sound applications where portability is essential without compromising sound quality.
Available Processing
Anti-Feedback (AFS Advanced Feedback Suppression)
Compressor (based on the dbx 163)
Subharmonic Synthesis
EQ (Custom Presets)